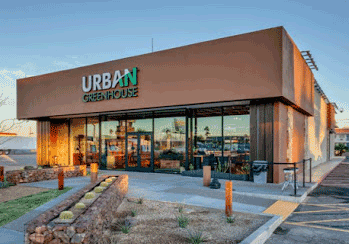 Urban Greenhouse Phoenix Dispensary Acquired By Harvest
June 8, 2020
Harvest Health Acquires Urban Greenhouse
Harvest Health announced the acquisition of the company Urban Greenhouse. Harvest Health, which is located in the United States, is a lucrative cannabis venture. On the other hand, the Urban Greenhouse dispensary operates in Phoenix in the same industry as well. Therefore, Harvest Health would now serve across Arizona and reach other clients in various locations. It would also add more operations, thanks to acquiring Urban Greenhouse that had a cultivation facility, and cannabis dispensary. Harvest will transform the dispensary to work under its cannabis stores. The main goal of the business is to provide top-notch retail experience and improve the living standards of the community.
Jason Vedadi, who is Harvest's Executive Chairman, said that the company continues to develop to be the leading in the cannabis realm. For this reason, it was essential to strive to provide customers with exceptional products and retail experiences. In addition to that, he insisted that Harvest would bring economic development to Arizona. He added that the organization would put more effort into primary cannabis markets to thrive.
Additionally, Jason Vedadi said that he valued the home market and that the company would provide job opportunities for the residents. The local communities would also benefit from consumer education and awareness. Plus, they would continue developing the stores for the sake of the customers. According to Jason, Urban Greenhouse had become prominent in Phoenix due to its real estate rank. What's more, it had gained ground due to the community reputation that it holds in the area. Therefore, Harvest would make it more successful and enhance the dispensary's growth due to its excellent track record.
Harvest agreed to purchase Urban Greenhouse at an unknown value in stock and cash. It has crucial objectives to build, acquire, expand the product line, and distribute it across multiple locations. Consumers will access cannabis with sheer simplicity in the comfort of their areas. The best part is that they will enjoy top of the line and reliable experiences as well.
As of now, Harvest Health operates and controls 13 dispensaries, manufacturing, and cultivation facilities in Arizona. It is yet to acquire the other six centers that will make it the leading operator in the cannabis industry. Not long ago, Harvest took ownership of a dispensary found in Casa Grande. It also launched the first medical marijuana dispensary in Glendale that was a milestone achievement. Plus, Devine Hunter Inc. handed over six licenses to operate to Harvest health.
About Harvest Health & Recreation Inc
Its headquarters is in Tempe, Arizona, where it is a multi-state cannabis operator (MSO). Harvest Health will have more than 210 locations with 135 retails in them. It will operate across 18 territories and states. With over 1.695 employees, it will offer exemplary services to its consumers. It made a commitment, and from 2011 onwards, it has dedicated its team to expanding the Harvest House of Cannabis stores. For this reason, the experts are acquiring, innovating, and developing exceptional brands for consumers and patients with profit generation in mind.